This data story accompanies my map and short publication 'Reconstructie van de Grote Waard, 1421' (Tijdschrift Holland 2021-2). The publication is part of a special issue of Tijdschrift Holland that marks the 600th anniversary of the St Elisabeth's flood (19th November 1421), one of the most significant environmental events of the Netherlands. The flood set in motion a gradual abandonment of much of the land around Dordrecht in the south of the County of Holland, affecting dozens of villages and permanently transforming the land into a tidal wetland (currently National Park De Biesbosch).
This data story is meant to provide users of the map and accompanying GIS dataset with detailed insight into my considerations during the map's creation. It is very much work in progress and will be continuously expanded in the coming months.
---
Introduction: background, study area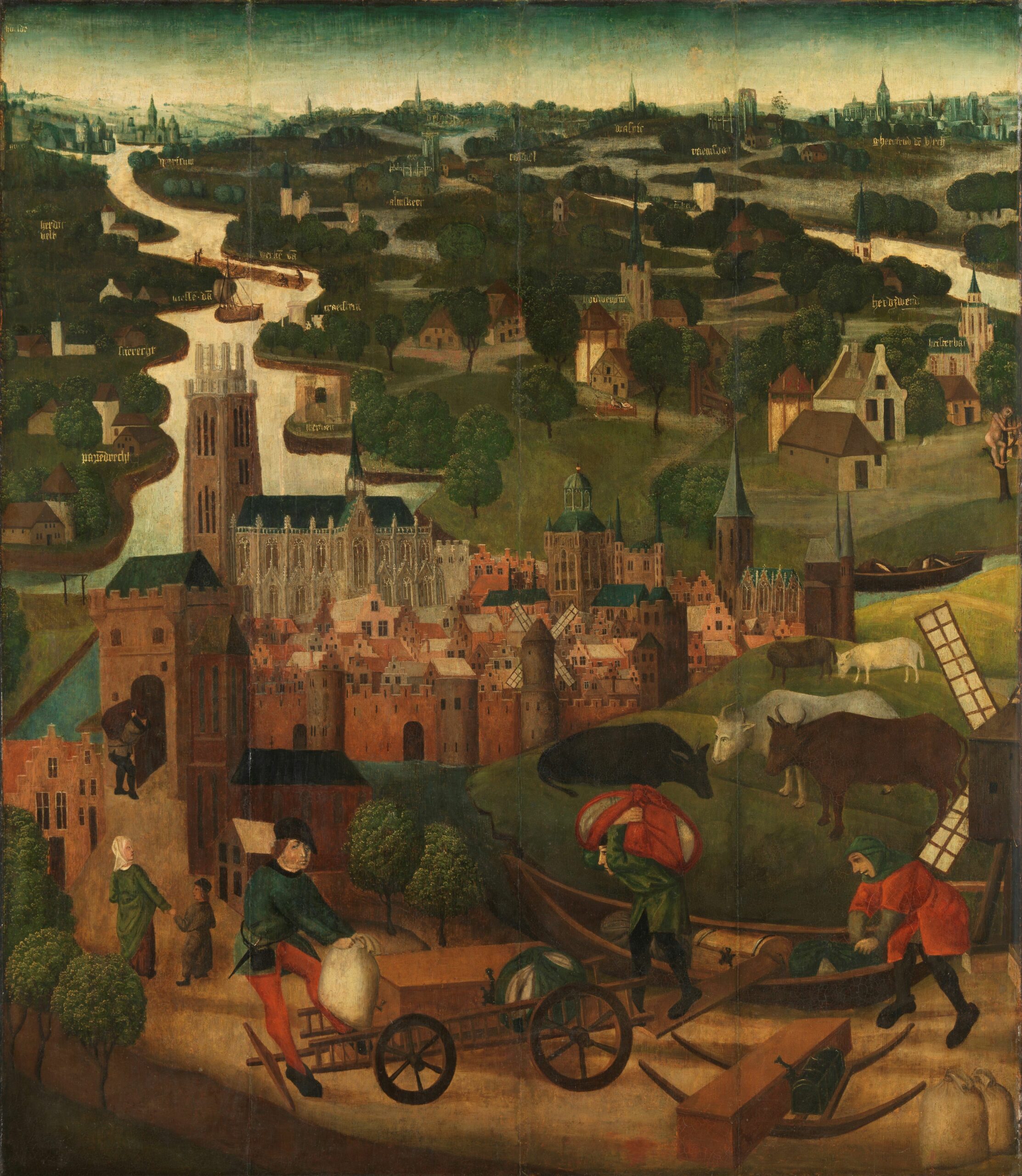 On 19th November 2021, 600 years have past since the devastating St Elisabeth's Flood. Although we now know that the area as a whole was not submersed over night, dramatically depicted in the famous late-fifteenth-century panels in the Rijksmuseum (panel A (see image left), panel B (image below)), in the years that followed numerous church villages and a significant portion of arable land in the County of Holland was lost for good.
Attempts to reconstruct what exactly was lost – and what the Grote Waard looked like before the events of 1421 – span almost six centuries as well: including a handful of spectacularly speculative ones. In the early sixteenth century, driven by conflicts over fishing rights between the lords of Nassau in the south and the bailiwick of South Holland in the north, considerable research was done to locate the former borders: the former river Meuse was marked using depth sounding, a wealth of cartographic material was produced, and countless interviews with (former) residents provided a sense of the available knowledge of the pre-flood landscape, a century later (see ).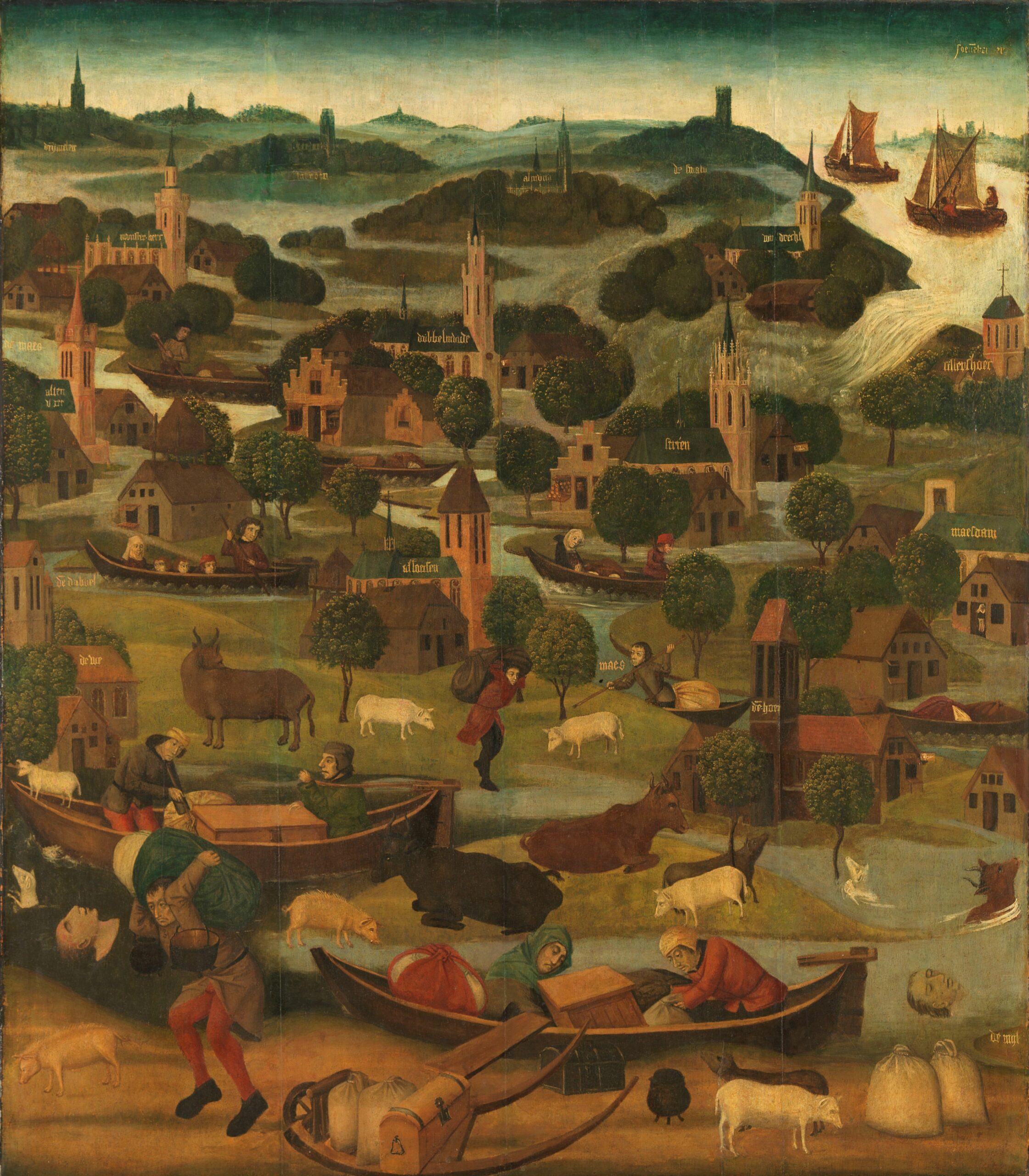 Of the more modern reconstructions, most well-known are the two reconstructions by and by (the latter published in the Geschiedkundige Atlas van Nederland). More recently, reconstructions have been made by (amongst other) (which includes a good historiographical overview), Henk 't Jong, and . Earlier in 2021, after our work was finished, Willem Gabriël Janssen published this reconstruction.
Our approach has a different starting point than most previous attempts. Central is aligning the episcopal administration, such as lists of parishes, to reconstructions of the waterways and (former) riverbeds in 1421 (using modern subsurface models, historical cartographic material, and literature). This leads to a reconstruction of the parishes in the area, which can be expanded with and/or linked to information on administrative-judicial jurisdictions ('ambachtsheerlijkheden'). Religious localities (churches, rural chapels, and rural monasteries) were, whenever possible, linked to archaeological sites or present-day buildings.
The important advantage of this approach, is that it becomes possible to effectively entangle all historical places and place name variants associated with the Grote Waard, one parish at a time – a task which is not simple (not a single previous reconstruction had been in agreement to another to how many or which 'villages' were flooded). After all, what constitutes a village in this context? Yet, a parish is a much more closely defined entity in medieval times.
We have chosen to build our study area around the complete deanery 'Zuid Holland' of the medieval bishopric Utrecht. The areas belonging to the County of Holland immediately east (Land van Heusden and Land van Altena) and south (in the bishopric of Liège) to this deanery complement the study area. In the section below, we will gradually explain – starting with the landscape as a whole and then parish by parish – what decisions were made in our reconstruction.
Landscape
This section will be expanded.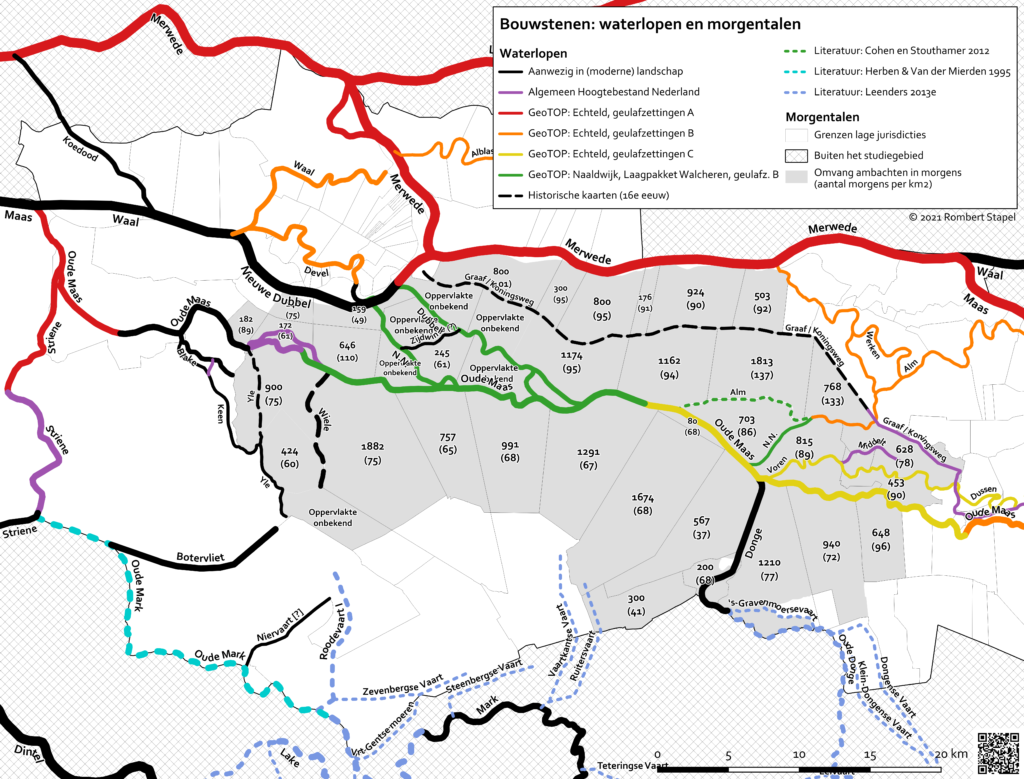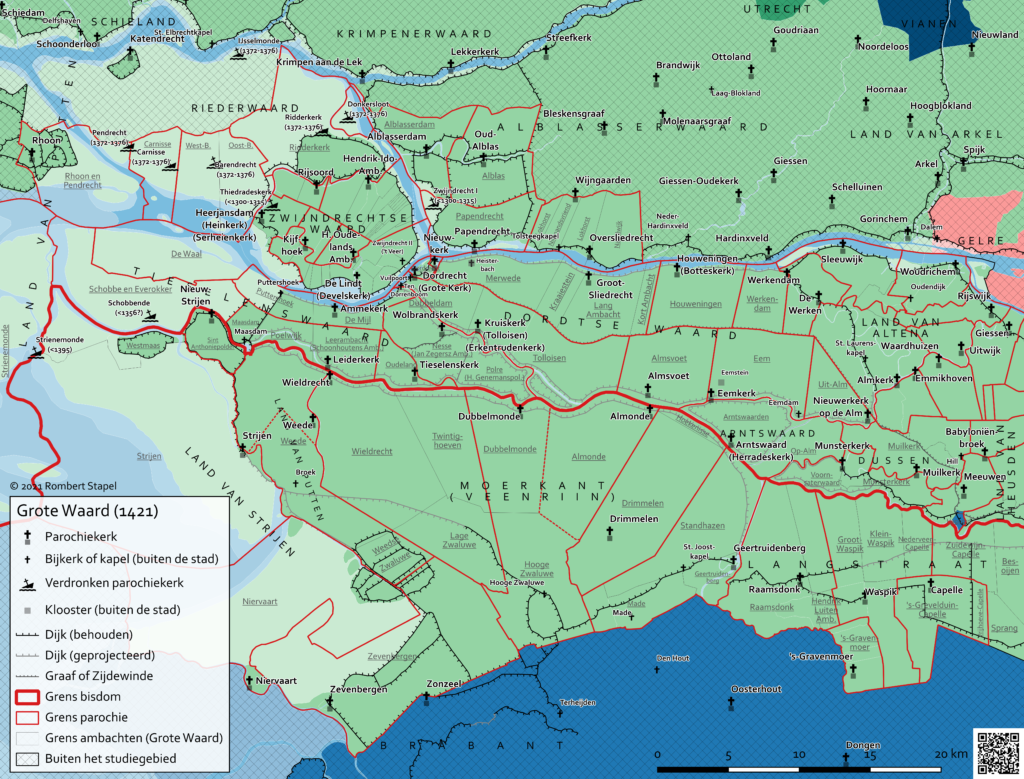 Parishes
In total, the study area included in 1421 seventy-seven parishes, including six non-operational parish churches (affected by earlier floods) and four parishes that were only partially covered by the study area, but excluding two filial churches (Bokhoven and Broek). Pendrecht used to be a separate parish, but already in the early fourteenth century this function had been taken over by Rhoon, and some time later Pendrecht had become submersed (, note 1). However, Pendrecht does continue to be listed as a 'submersed' parish in episcopal administration well into the sixteenth century (as do many other submersed parishes, in increasingly 'exotic' spelling variations). One of the parishes (Dubbelmonde-Almonde) was a twin parish, with two parish churches.
This section will be expanded, one parish at a time.
Deanery of Zuid-Holland (Utrecht)
Two former parishes in the Zwijndrechtse Waard that drowned in the early fourteenth century have not been listed, since it is not clear whether their parishes had a formal legal successor around 1421, or whether their former territories were simply replaced by a complete new parish division. It concerns Thiedradeskerk (see Heerjansdam above) and Zwijndrecht I. Thiedradeskerk is likely to be linked with the eleventh-century churchyard recovered by archeologists just north of Heerjansdam (see ). Zwijndrecht I (for Zwijndrecht II, see De Lindt above) had originally been the only other church in the Zwijndrechtse Waard. Its territory likely covered Dordrecht before the town became a separate parish in the eleventh century. The location of Zwijndrecht I on our overview map has been one of two options put forward by .
Until 1328, the neighbouring parishes Drenkwaard (also known as Westenrijk, Blinkvliet and Couwenhoven, and currently called Zuidland) and Abbenbroek, westward of Strienemonde, also belonged to the deanery of Zuid-Holland, but they were transferred to Putten and Voorne respectively. The parish Rhoon (and Pendrecht) was transferred from Zuid-Holland to the deanery of Schieland shortly before 1467.
Deanery of Altena (Utrecht): Nieuwerkerk op de Alm
Deanery of Hilvarenbeek (Liège): west of Geertruidenberg
Remaining parishes
This section includes a gallery of the parishes whose boundaries were less affected by the St Elisabeth's Flood (or not at all): namely those in the deanery of Altena/Woudrichem (except above-mentioned Uit-Alm or Nieuwerkerk op de Alm), the deanery of Tiel/Arnhem, and deanery of Hilvarenbeek (east of Geertruidenberg): the latter two covering Holland's Land of Heusden and Langstraat regions.
Download data
The maps and GIS files are available from the IISH Data Collection (CC-BY-SA 4.0).
Bibliography